The Art of Language Invention (Penguin Books 2015)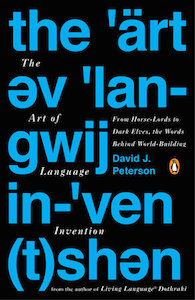 The Art of Language Invention is an insider's tour through the construction of invented languages from the bestselling author and creator of languages for the HBO series Game of Thrones and the Syfy series Defiance.
From master language creator David J. Peterson comes a creative guide to language construction for sci-fi and fantasy fans, writers, game creators, and language lovers. Peterson offers a captivating overview of language creation, covering its history from Tolkien's creations and Klingon to today's thriving global community of conlangers. He provides the essential tools necessary for inventing and evolving new languages, using examples from a variety of languages including his own creations, punctuated with references to everything from Star Wars to Michael Jackson. Along the way, behind-the-scenes stories lift the curtain on how he built languages like Dothraki for HBO's Game of Thrones and Shiväisith for Marvel's Thor: The Dark World, and an included phrasebook will start fans speaking Peterson's constructed languages. The Art of Language Invention is an inside look at a fascinating culture and an engaging entry into a flourishing art form—and it might be the most fun you'll ever have with linguistics.
Available wherever books are sold. Order online here. More purchase options below:
Praise for The Art of Language Invention
"David Peterson's language work transformed our show, investing it with a sense of reality and history that would have been impossible without him. There's nothing like the real thing, and David Peterson is it. This fascinating book will not only illuminate the task of language creation–it will make you look at your own language in a whole new way."
➣ David Benioff and D. B. Weiss, co-creators of HBO's Game of Thrones
"George R. R. Martin created Drogo, and David Benioff and Dan Weiss believed in me, but David Peterson gave me life."
➣ Jason Momoa, Khal Drogo in HBO's Game of Thrones
"David J. Peterson's The Art of Language Invention accomplishes a minor miracle in taking a potentially arcane discipline and infusing it with life, humor and passion. It makes a compelling and entertaining case for language creation as visual and aural poetry. I cherish words, I love books about words and for me this is the best book about language since Stephen Fry's The Ode Less Traveled. And, best of all, there's a phrasebook!"
➣ Kevin Murphy, co-creator and showrunner of Syfy's Defiance
"If you want to know how someone makes up a language from the ground up, you'll find out how in this book—and the glory of it is that along the way you'll get the handiest introduction now in existence to what linguistics is. In fact, read this even if you DON'T feel like making up a language!"
➣ John McWhorter, author of The Language Hoax
"Accessible, entertaining, and thorough, Peterson has created an invaluable resource for authors, dedicated fans, and casual enthusiasts. This is the book I wish I'd had when I started writing."
➣ Leigh Bardugo, New York Times bestselling author of Shadow and Bone
"This book not only lucidly ushers language invention into its own as an art form, it's also an excellent introduction to linguistics."
➣ Arika Okrent, author of In the Land of Invented Languages
"Equal parts fascinating, challenging, and geeky…"
➣ Publisher's Weekly (Full Review)
"Authors of SF and fantasy would also do well to read it at least once, especially if they get the urge to create names like Hr'avglp, G'Kar, or Hziulquoigmnzhah."
➣ William Annis, creator of the Usandu language from the Grey Goo game (Full Review)
"[The Art of Language Invention is] a book I highly recommend both to newbie and advanced conlangers, as well as anyone who might be interested in conlanging."
➣ George Corley, host of the Conlangery podcast (Full Review)
---
Living Language Dothraki (Living Language 2014)
Living Language Dothraki is the official guide to the Dothraki language from HBO's Game of Thrones.
Fans of the hit HBO series Game of Thrones can now learn the Dothraki language. Written by David J. Peterson, who developed the language for the HBO series, Living Language Dothraki will arm you with enough vocabulary and grammar to have a complete conversation in Dothraki. Me nem nesa!*
The course includes a 128-page language guide and a one-hour audio CD featuring over 200 words and phrases, grammar explanations, cultural notes, a dialogue, and exercises for reinforcement. Containing words never before heard on HBO's Game of Thrones or seen in George R. R. Martin's A Song of Ice and Fire series, this course is the ultimate Dothraki guide.
*Me nem nesa! = It is known!
Available wherever books are sold. Order online direct here. More purchase options below:
Praise for Living Language Dothraki
"Although we learned many valuable things by studying Latin (we know when the Ides of March are, we can translate that motto for you), we're still less likely to speak it to another human being than we are Dothraki, which is why we love these lessons in conversational Dothraki from David J. Peterson, who fleshed out the language for HBO's Game of Thrones series."
➣ ThinkGeek (purchase)
"Trekkies can converse in Klingon, Tolkien fans can master Elvish and now fans of Game of Thrones can learn a language of their very own."
➣ Jessica Derschowitz for CBS News (full article)
"Whether you say it valar morghūlis or ei mahrazhi'th drivoe, one thing is for certain: the languages of Game of Thrones will likely live on long after all those men go and die."
➣ Alycia Lutes for Nerdist.com (full article)